CATEGORY
Summertime is not far away, meaning that inevitably we will all be out in our gardens far more to enjoy the sunshine. BBQs with family, tending to flowers and plant beds or just relaxing on your favourite deck chair, for most your garden becomes a lively activity hub throughout the summer months, meaning that you want it to look its absolute best.
Typically this means mowing the lawn, trimming the hedges and jet-washing the patio.
Whilst this all goes a long way towards perfecting your plot, people often forget all about their fencing.
Why would my fence need a refresh?
Consider this; throughout the autumn and winter seasons your garden fencing is being relentlessly worn by the elements, meaning when spring and summer come around your once fresh wooden fencing can be left looking weathered.   
A reinvigorated fence can uplift the entire aesthetic of your outdoor space.
Whether this means a complete panel replacement or just a refresh, Grangewood Fencing has everything you need to take your fencing from drab to divine.
For a complete fencing overhaul, we stock an extensive selection of high-quality Wooden Fence Panels available in a range of heights.
Alternatively, if you just want to breathe new life into your existing fencing, follow the steps below and we'll have you summer ready in no time.
What Will You Need?
Refreshing or painting a fence can seem like a daunting task, especially for larger gardens, but the correct tools and accessories will make the whole process far more easy and efficient.
Before you get started, here are the essentials:
Exterior wood primer

Exterior wood paint or stain

Plastic sheets

A stiff brush for removing dirt.

Fence spray gun or Ronseal Fence Life Brush.

Protective face mask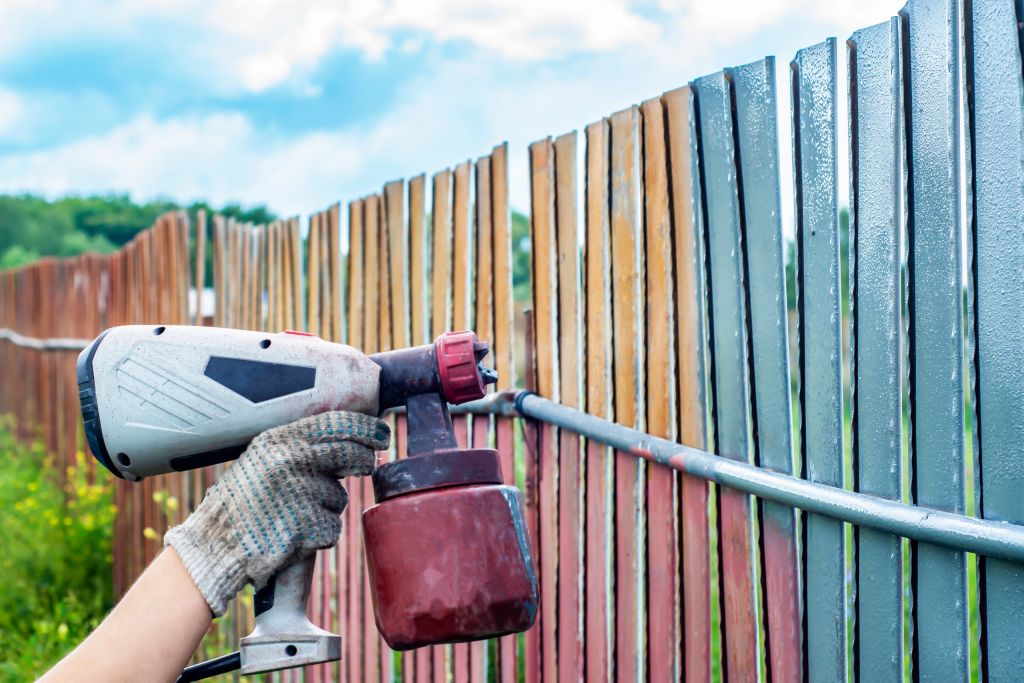 Step 1 – Preparation
Before applying any primer, paint or stain to your fencing you will first need to protect the area; any nearby grass, plants or garden furniture using plastic sheets and moving any obstructions.
For overhanging branches or hedges, fencing solutions can be harmful so you will need to either trim these back from your fence or pin/tie them back until everything is dry and the work is complete.
Step 2 – Optimise the surface
To ensure the best overall coverage and that the wooden panels properly absorb any stain or primer you will need to rid your panels of any dirt, old nails and mildew. This can be done either manually or by using a power washer for any stubborn areas (bear in mind if you are using a washer, you will need to allow adequate time for the panels to dry).
If you are painting a fence that has been painted previously but is now flaking and untidy, you will want to sand your panels to ensure an even surface with a professional-level finish.
Step 3 – Apply your first coat
Best check the weather forecast beforehand as you will need a warm, dry day with no rain or wind.
If you plan on applying paint to your fence, you will first need to apply a primer using a brush or roller. This will serve as an adhesive for your paint and also help to prevent any mould growth. Allow any primer to dry for as long as the tin recommends, which is typically a few hours.
You can then begin either spraying or brushing your chosen exterior wood paint.
If you are using a fence treatment solution to provide protection and colour you can begin either spraying or brushing on your chosen stain.
It is important to remember that when using a brush, apply a good amount of stain to your brush and apply a thick coat that isn't stretched too far. 
Ronseal Fence Life Plus from Grangewood Fencing is:
Suitable for both spraying and brushing application on either rough-sawn or smooth-planed fences

Rainproof in just one hour

Offers up to 5 years of protection     
All done!
And there we have it, a beautiful garden border that you can be proud of!
All that is left to do now is clean up, remove any plastic sheets, return your garden furniture to its original location and clean any brushes using warm, soapy water.