CATEGORY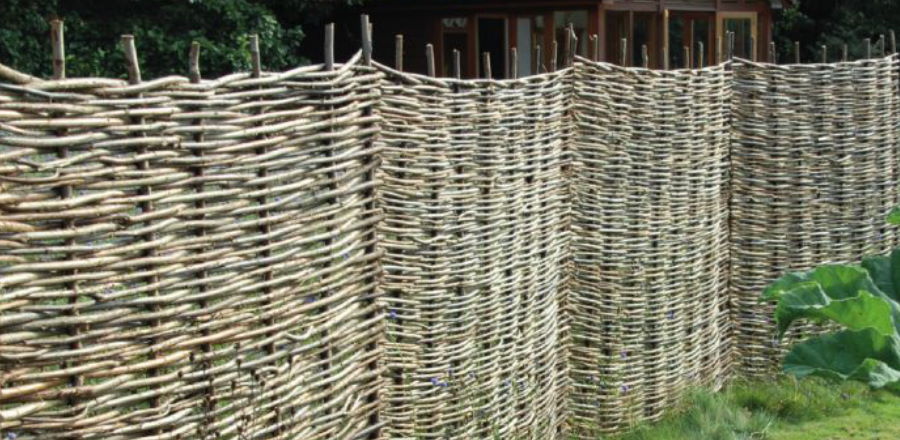 Hazel Fencing – What Is It & Why Choose It For Your Garden Project?
Woven Hazel Fencing, also known as Hazel Hurdles, use an age-old weaving technique that creates a charming alternative to traditional fence panels.
Woven Hazel Fence Panels are sustainable, long-lasting, durable, versatile and easy to install and maintain. Aside from the practical benefits, these rustic style hurdles are sure to add a beautiful feature to any garden.
Find out all you need to know right here before purchasing your Hazel Hurdles from Grangewood Fencing.
Woven Hazel Fence Panels are Sustainable
The hurdles are manufactured using coppiced hazel – this is a pruning technique where the tree is cut to ground level, resulting in regeneration of the new stems from the base. Consequently the branches are trimmed from new growth only, which in turn stimulates further growth.
This makes the process highly sustainable and rejuvenates the tree for next years' growth.
Additionally, using the 'fresh' branches from the Hazel tree means the wands are flexible and uniform, resulting in a fence panel that looks like a work of art.
The coppicing season for Hazel is from October through to mid-March, making it an ideal source of material ready for summer garden overhauls.
Woven Hazel Fence Panels are Long-Lasting
Woven hazel fencing can last up to 10 years!
Their structure is strong and rigid and allows wind to pass through, which reduces the risk of the fence being damaged by high winds.
As woven fence panels have been used since and are associated with the Neolithic period, they are now typically used within classic English gardens. However, they also bring a natural, eco-friendly divider to modern, urban landscapes.

Woven Hazel Fence Panels are Durable and Versatile
Woven fences can be manufactured from both Willow or Hazel; the difference between the two is the thickness. Willow is typically around 1cm thick, whereas Hazel is thicker at approximately 2-3cm in diameter. The extra thickness that hazel boasts gives it an advantage when it comes to strength and durability.
Hazel Hurdles are versatile! They can be used for a range of applications within your garden including:
Boundary fencing
Screening
Partition walls
Support for climbing plants
Woven fences are ideal for both boundaries and for zoning areas of your garden. Their versatile structure enables them to be installed to shape and fit a curved area.
Woven Hazel Fence Panels are Easy to Install and Maintain
Hazel Woven Fences are easy to install. The usual installation process involves fixing wooden spiked fence posts into the ground. The hurdles are then placed along the wooden structures and affixed with heavy-duty wire or nails. It is not usually necessary to fix the posts into the ground with concrete as the relatively open structure of the panels allows wind to pass through.
How securely the structure will need to be affixed will be determined by the size and weight of the woven panels.
Can you cut hazel fencing to size?
It is not recommended that you cut hurdles to size as this can compromise the strength of the panel – it is also quite an arduous task! We recommend overlapping the panels where required, to enable them to fit the desired length.
Do you need to treat hazel fencing?
Hazel hurdles mature naturally over time to a beautiful grey and therefore do not need to be maintained or treated. However, if you would like to maintain the original colour you can use a clear preservative on the fence panels.
If there is anything else you'd like to know about our hazel fence panels, get in touch today and we'll be happy to help!